Focke Wulf Fw 190 A-7

Flown by Oberleutnant Otto Kittel, 3./JG 54, Riga-Skulte/Latvia, June 23, 1944.
© Claes Sundin 2012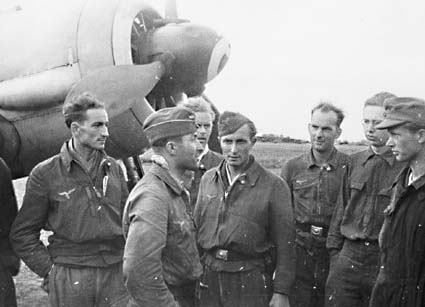 Otto "Bruno" Kittel standing in front of his Yellow 1 addressing his fellow pilots
Otto Kittel was a quiet and calm young pilot, and still developed into one of the top scoring fighter aces of World War II. In the fall of 1941 the short-in-growth 24-year-old Unteroffizier Otto Kittel had just received his "wings" and was posted to 2./JG 54 on the northern sector of the Eastern Front. Intercepting large formations of Il-2s in the Leningrad sector on February 19, 1943, JG 54 Grünherz claimed thirty Soviet aircraft shot down. With one of the last kills on that day, Feldwebel Kittel scored his thity-ninth and the 4,000th victory of the Geschwader. The recognition that Kittel or "Bruno," as he was called received from this opened the gates to his outstanding row of success in the next two years. Eight months later he reached his 100-victory-mark. On October 29, 1943, Oberfeldwebel Kittel was awarded with the Knight's Cross. Following his 150th victory on April 8, 1944, he was promoted to Leutnant and put in charge of the new 2./JG 54 on the Eastern Front. At 1206 hours on February 16, 1945 four Fw 190 A-8 led by Oberleutnant Otto Kittel of 2./JG 54 took off from an airbase in the Kurland pocket. The mission was free hunting over the frontline area near Dzukste. After only seven minutes the German fighters spotted fourteen Il-2s that were bombing and shooting rockets at German troops from an altitude of 450 feet. Oberleutnant Kittel radioed an attack order. The Il-2 Shturmoviks were flying in a row, one after another, and Kittel attacked from the right hand side. His wingman Oberfähnrich Renner wrote:
"Flying at a distance of about 300 feet from Oblt. Kittel I saw him dive beneath and behind an Il-2 and attack it. Behind us two other Il-2s pulled up sharply. In the nexy moment an explosion was seen in his cockpit and the aircraft started to descend." Kittel's Fw 190 tore into the ground with its starboard wing, caught fire, and then exploded. Otto Kittel, victor in 267 aerial combats and the highest scoring fighter pilot to fall prey to the enemy, had no chance whatsoever of surviving.
© Christer Bergström 2002
---