In March 1941, JG 54 was stationed in Le Mans on a well-deserved rest and recuperation after the hard times during the Battle of Britain. The Geschwaderkommodore Major Hannes Trautloft and the other officers of JG 54 spent most of the time at Le Mans with pheasant hunting trips or walks in the old town of Le Mans.
According to Hannes Trautloft, his main preoccupation at this time was a series of visits to the dentist fearful for Trautloft, who had greater fear for the dentist than for any Spitfire. The only hostile activity that met the men of JG 54 at Le Mans were French chocolate bars that were found to be sabotaged--stuffed with small, sharp metallic pieces.
Trautloft celebrated his 29th birthday in Le Mans on March 3. The only incident during this stay in Le Mans occurred when Major Trautloft was forced to punish Oberleutnant Hans÷Ekkehard Bob for failing to eport that he had crashed a Bücker training plane in the harbor of Cherbourg.
However there is no mention to be found in Trautlofts diary regarding the incident when his personal Emil was lost, when on his day, on 16 March his stab machine was piloted by the technical officer of JG 54 Oblt. Kalau v. Hofe. On a test flight he was forced to make a belly landing in a forest clearing close to Le Mans, a crash that injured him and the Messerschmitt sustaining a 70% damage, by other words a total write off.
Oblt. Werner Pichon Kalau v. Hofe that by this time had amassed a score of six British aircraft, half of them, three Defiabnts was downed South of Folkestone on 19 July 1940. Then followed, a Spitfire near Tonbridge on 12 October. Another Spitfire fell before his guns in the London area on 25 October and two days later, on 17th of October 1940 his 6th, a third Spitfire was claimed over Ashford.
Oblt. von Hofe was besides a technical officer in the JG 54 and an accomplished pilot, also an ardent photographer and filmmaker. Thanks to him there is a lot of machines from JG 54 that was photo documented, like this Emil, most helpful for me as a profile artist is however the color slides and color films taken by him.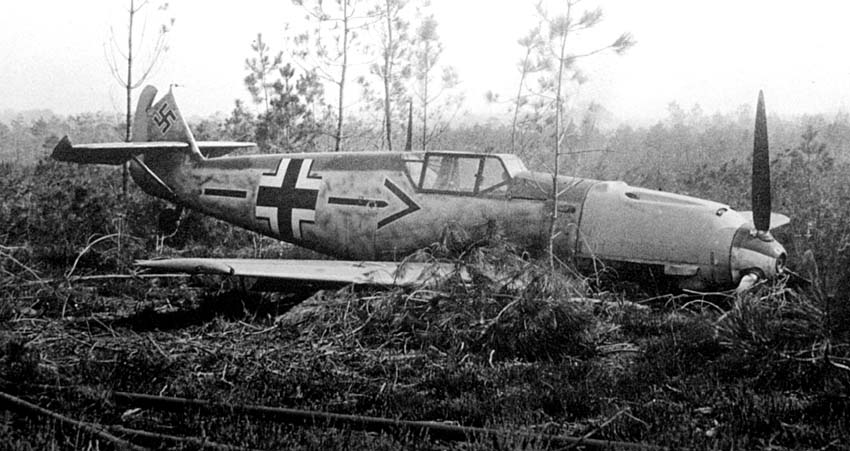 According to the German loss statistics, this machine was 70% damaged in the belly-landing. Checking the photo the damages must have been an exaggerated estimate. However as new improved Bf 109 F was ready to be taken over by the Stab, this could be the reason to get rid of this "seriously" damage Emil as it thereby would be sent away for a factory rebuilt.

This mew profile was made from and old profile of mine made in the 90-ties.
During this week, I made another five profiles just for fun!
Who knows in what profile book they all would be included in, your guess is as good as mine!