In the past I bought 4 of your books. I must say your drawings are of an extraordinary quality, bur sometimes to 'hazy'. I did not buy new books anymore as you have drawn almost alone Bf 109s and Fw 190s! I think you can do better by drawing other WWII aircraft! So skip the German Bfs and Fws and have some interesting US, UK, French aircraft!!!! Good luck
Albert/Belgium

I received your latest profile book about 5 weeks ago. I have finally had a chance to sit down and read through it and study the profiles with the wonderful short "histories" of the planes and the pilots. What a great reference book(s). Once again you have given us (mere punters) a look into the past. A time in history, where young men put their lives on the line for maybe an idea, a country but I'd like to think for mostly family. To see the aircraft they flew in colour brings it to life more so than shades of grey. I really hope our young people do not end up repeating the mistakes of the past. But sadly.... Looking forward to your next great work. Best regards,
Derek/Australia
Derek Once again Claes has done it! Yet another book filled with excellent profiles of Luftwaffe fighter aircraft. The format and layout are well known to regular readers but this new book differs somewhat from Claes´ earlier books as the captions are longer and thus more informative. When I compare this book to Claes´ first effort published in 1997, it is clear how far Claes´ work has progressed. Thankfully valuable information still emerges which allows Claes to continue his production of highly interesting profiles with yet more books to come. Personal favorites are Wilhelm Balthasar´s Bf 109 E-4, which was later repainted when Balthasar joined III/JG 3, see profile No. 11 in Profile book No. 1 published in 2017, and Assi Hahn´s Bf 109 G-2/R6, the last aircraft to be flown by Hahn prior to his seven years as "guest of the Soviet Union". Highly recommended to all historians and modellers. And now for a long and trying wait until October and the JG 52 book!
Fredrik/Sweden
Have now got profile book NO 13 in hand and in it the author describes very well about 130 different German fighter planes and their pilots, most of these pilots have their own story about what they have succeeded and failed with during their service in the Luftwaffe during the war years. The images of the aircraft are of course in color print and taken from the various war theaters where they operated, it is also printed color number according to the RLM standard from the German authority and how it is painted, as well as that there are several images of unit emblems and also the pilots' own insignia, images and name. We can, among other things, read about a fighter pilot Oberstleutnant Max Ibel who led a fighter unit and flew over England in 1940 only 44 years old or read about Edu who was an exceptionally good leader. If you are interested in German fighter aircraft during the war years, I recommend this book
Christer/Sweden
The book appears in a nice and clean shape. A quality print as we are used to when reading a Claes Sundin Book. There are many new and unknown machines with a lot of text going with the history of the machine and its pilot. The historical part is well researched and exiting to read. Indications, concerning the used RLM colours of the Luftwaffe, are given which makes it interesting to model kit builders. The profiles look wonderful and are of high quality. Even captured machines are shown. Colourful squadron badges are rounding the whole book up.
I am impatient to wait for the next project written by Claes
Jean Luc/Luxembourg

This is another excellent profile book from Claes Sundin. Once again I've spent a wonderful time reading and looking at the profiles. The quality of the profiles is such that I can let myself immerse completely in the text. Texts and profiles are well researched and great attention has been given to details. A real delight for aviation and Luftwaffe enthusiasts. I'm looking forward with great expectations about Claes' next volume about the JG 52! I hope that there will be some room for a Bf 109 A in a future publication.
Antoine/Switzerland

Claes Sundin presents in this now 7th volume of this series of Luftwaffe fighter aircraft profile books volume number 13 with another 130 new fighter aircraft profiles. One could believe that the topic should slowly develop as boring but the opposite is true.
One finds 87 Bf 109s ranging between E-1 and T-2, 32 Fw 190 of subtypes A and D, 1 Ta 152 A, 1 He 162 A, 1 La-5 FN Beutemaschine, 1 MC 205 flown by 6./JG 77, 3 Me 163 B and 4 Me 262 A1a. In the majority of cases Claes attributes a plane to a pilot. In contrast to the early volumes he provides below each profile now a longer short story about the pilot, his history and fate in the Luftwaffe and additionally some information about the unit and the theatre where the plane was operated. Theatres range from Northern Africa to Spitzbergen or from the Channel to those cities what we hear currently again from the Russo-Ukrainian War like Charkow and Mariopol.
How are the profiles? Claes ever dug into the photos of the real airplane and reproduces in his artwork the most realistic impression of the true aircraft possible. This includes not only the RLM colours used, but also their application inclusive signs of wear and weathering. Claes and his artwork succeed in giving the impression of a more or less used aircraft with still satin finish what these aircraft really had especially when having a short lifetime in combat, they weren't simply matt. With all this he raised his standard continuously from volume 1 to now 13. In brief, you might even consider to use a magnifier and enjoy this brilliant representation of all details included. Having a large library collected since 1970, I have considerable resources and whenever I had a photo of the airplane available I could verify the extraordinarily high level of detail comprehension and representation in the colour work. He is among the best illustrators in this special area in world today with this standard.
The book of course contains another new aircraft of the most known Luftwaffe experts like Hans-Joachim Marseille, Hermann Graf, Günter Rall, Adolf Galland, and many others with well-known names. Listing them all would render the review too long. But also, the lesser known pilots find their representation and well done, it is interesting as well to read about their career in the Luftwaffe.
The proportion of me-too profiles is not null but in reasonable limits. And the me-too issue is not important since looking at a Claes Sundin profile that subject of which was already published by another author some time ago pleases ever again with more details of colour pealing and repair, scratches, bleaching and the RLM colours selection he did and is a newly evaluated presentation of the same true aircraft photo. I was not bored at all
Claes had another very good idea to integrate a Pilot/Unit index at the beginning of the book. One can look for a pilot name there and then can find information in which of the volumes 1, 3, 6, 10, 11, 12, and 13 another airplane flown by this pilot / or unit can be found in profile.
Which were the 3 profiles I most liked:
No 18 Bf 109 E-7 Trop, yellow 6+ in early RLM 79, 80, 78, the so-called "spaghetti and spinach" camouflage (see colour chart above)
No 117 Bf 109 G-10 Erla, red 13 of 2./JG 27 (in late war brown greens RLM 81, 82, 76)
No 108 Fw 190 D-9, brown 9+- of 7./JG 26 (in mid-war day fighter greys RLM 74, 75 and 76).
Who can be interested to have this book: anybody interested in Luftwaffe history, its pilots and aircraft, and serious modellers if they like to build authentic aircraft models. Here I would like to add that modellers good in airbrushing and capable to conceive their own marking masks and let them cut on an own mask cutting plotter, can take their extreme profit from Claes' artwork in every respect. But this should be explained in another paper focusing on this topic
Are there suggestions what to improve? Yes, and simply to raise the bar again.
Claes might consider to enter also an airplane type index as well. Example: one is looking for the rare types like Bf 109 G-10 Erla or Ta 152 H, or C, where is the profile(s) in his Luftwaffe Fighter Aircraft Volumes.
A second addition of value could be to add some selected examples of 4 view profiles (top, bottom, left right) to give the impression how the airplane looked from all sides. I know, this will lead to guesses but being honest: interpretation of black and white photos of the true aircraft and then drawing a colour profile of it ever is an educated guess, but the education of Claes is excellent so one is confident the result will be persuasive.
The book is very highly recommended and worth every Euro/SEK one pays.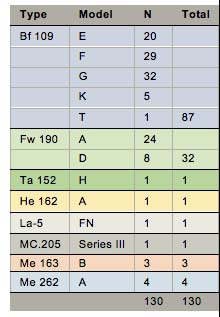 Georg/Germany.

What wonder this morning by opening the LP13, each new book is always richer in the quality, the precision of profiles and texts. It's always a pleasure to go through them and see the progress over the years. I hope there will be many more Luftwaffe chapter for the next few years, Your faithful reader since the beginning.
Eric/France
This is beautiful book with harmonic selection of plane profiles at different times of war. Plane subtypes are well presented and there are interesting stories about how balance of power changed during the war years. My favorite profile is that of No 124, a Me 262 that was depicted standing in a grass field. I have been waiting that style of profiles since 2002 when last time it happened in Claes book. Because of index system it is easy to find pilot and his plane that you are searching for next modeling subject. By reading Claes book's you can learn all about german WW2 fighter camouflage colors that you need to know for scale-modelling.
Aleksis/Finland
"Claes Sundin's latest book of profiles once again features planes flown by the Luftwaffe in World War II. It covers planes from the beginning of the war in 1939 through the end of hostilities in 1945. Along the way, you can see not only an evolution in the planes flown by the Luftwaffe, but in the paint and camouflage schemes they used as well. All theatres of action are covered in the book, and I'm guessing most every fighter Geschwader is featured at least once. Since this is the 7th book of profiles of Luftwaffe fighters, you would think there would be repetition in some of the profiles, but no, Claes has once again compiled 130 completely new profiles along with really informative narratives for each one. I must say each time I get one of these books (and I have all 13) I am pleasantly surprised to see some new personal and/or unit markings which I have not previously seen and I think that is one of trademarks of Claes' work: he always gives the customer a little something new each time. Well done once again!" Cheers!
Marc/USA
The book is in the same C.S catecory, a jewel for the WW 2 Luftwaffe fans ,top quality material ,super top quality content, The profiles are giving you the sensation that they are ready to take off , Fantastic!!!, they will give a personal feast for my eyes !! I would highly recommend it to all ww2 Luftwaffe fighters fans and of course I have no words to describe my enthusiasm for the upcoming volume 14 about JG 52.
Stamatois/Greece
A new volume that lives up to expectations and once again of the highest quality. The choice of aircraft, their versions and profiles are a nice and varied sample of typical camouflages covering the whole operational period of the Luftwaffe fighters. The quality of the rendering of the color schemes are particularly well reproduced and detailed with original markings. A highly recommended book for enthusiasts of Luftwaffe history and aircraft camouflage and of course, for modelers looking to reproduce aircraft with unique and authentic color schemes.
Pascal/Switzerland
I have in my possession all books relating to Luftwaffe aircraft (including the Limited Edition) and in fact I can only agree with Claes' own statement in the foreword: It is definitely the best book so far! I always wonder how Claes still manages to improve further on his work... The profiles themselves are in my opinion the very best you can find anywhere, both in terms of graphic quality, choice of subject and meaningful, highly informative captions. I also like the cross-register, although I am wondering if Claes will not eventually run out of colors, bearing in mind his projects already in the pipeline. I have one personal wish or suggestion regarding the future: What about a volume concentrating on pre-war Luftwaffe aircraft, including fighter, attack and bomber planes - and of course the Legion Condor.
Wolfgang/Germany
Another amazing book. Many new Bf-109F's (my personal favorite), K-4's, Dora 9's and some new Me 163's which I haven't seen before. I am always impressed with your work and research found below the captions for each aircraft profile and the situation / timeline in which the aircraft were operating in. You never fail to deliver to your fans a new and exciting profile book with history and some classic (older) subjects with new refreshed profiles. Congratulations are in order on another mush have profile #13 for many of your fan base. Well done Sir!
Troy/USA
Here again what I like to define as a 'work of art' not a simple book, very accurate profiles of great emotional impact for those like me who love Luftwaffe warbirds, in addition to very useful and interesting captions, highly recommended for historians and enthusiasts as well as model makers.
Luigi/Italy
A new profile book that really delivers interesting and well-made profiles with accompanying text. The printing and binding are of top quality, the very well executed profiles reflect the camouflage pattern and its nuances perfectly. A good selection of aircraft types as well as a well-written and informative text. Finally, the mystery of the mysterious shade of RLM 76 (RLM 84) was solved. Color chemist breakdown. Good and sensible explanation of a tricky problem that has puzzled me and many others. I'm really looking forward to the next profile book!
Jonas/Sweden
In his new Volume of Luftwaffe Fighter Aircraft Claes provided us again 120 new profiles. The high level of detail in conjunction with the accuracy of the captions made it a pleasure to read and look at. The paper quality and printing are superb as usual. Claes picked a good mix of well known aircrafts and their pilots and lesser ones, which keep the level of interest on a high point.
So once again Claes created a brillant piece of art, thanks for that.
Thorsten/Germany
Fortunately, I have followed the works of Claes from a long time ago and I enjoyed every one of his books. Although actually all of them are really superb, I realized that every new book is indeed better than the book before (and I assure you that without doubts his books are the best about military profile). Because the profiles are "almost ready to fly again" and the texts are longer in every new book. If the book only has text (without profiles), it would be a very very interesting book; and if you include the profiles it is the best of the best. Purchase it because it is a little "jewel" for the Aviation lovers. Kudos Claes. Now looking forward to the JG 52 book.
Eduardo/Spain
About your Book. The Profiles are outstanding in Quality and Colours. Unbeatable. Together with the (extended) Text, they built an wide Look into the Past. I like very much the unknown Pilots and their Crates. The Opponents of them and the opposing Units, what you named, help, when you go further (search in the Internet) to find an Image of both to understand the whole Thing even a little better. This will keep me busy for Weeks. Also by using some Maps for the Locations what I print out and add it to some of your Profiles.
Fritz/Germany
In my opinion this is Claes'best profile book yet, although the others in the series provide strong competition. In terms of presentation, the aircraft illustrations are of the highest calibre reproduced on paper of the excellent quality. The book is well researched, and informative. I would highly recommend it to all Luftwaffe and aircraft enthusiasts.
John/United Kingdom